OKA History
HOME | History |  OKA News Page |  OKA Mini Cars |  OKA Parts | Sitemap
Scale Models: O Scale − 1:43

---
Beginning
Work on a concept vehicle which latter became the Oka begun at VAZ in 1981, the leading designer of the project "OKA" was Jury Nikolaevich Kuteev.
In the group of designers from VAZ were:
Y.Vereschagin, the designer of the body and interior details;
I.N.Novikov, the designer for development of the engine;
Mr. Romanchuk, the designer of the gear box;
and the engineer-designer of the configuration N.Kozachok and Mr. Rozov.

Mini-car "OKA" design was completed in 1986 after five years of extensive vehicle testing and has been produced since 1987 without any major modifications.
Production
Since the start of production at ZMA 300,000 "OKA" mini-cars were produced as of February 11, 2005.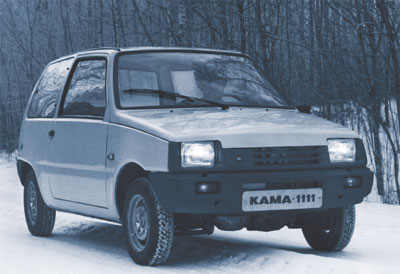 The first prototype of "OKA" during winter testing in 1984
---
Production of the "OKA" mini-cars was started on November 6, 1987.
At first this production was based in "KAMAZ" where commercial trucks are produced.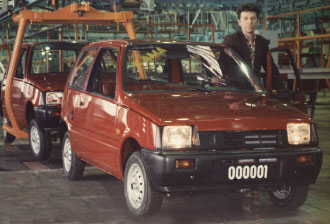 This is the 1st "OKA" mini-car that has been produced
---
In December 1991 this factory was reorganized into joint-stock company "ZMA".
Since September 1994 this factory was situated in an industrial complex, which was tooled for production of only 10,000 cars annually.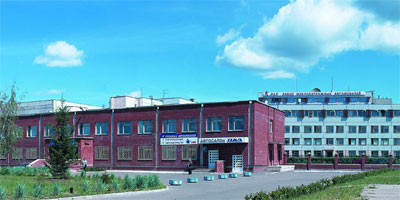 The "ZMA" factory where "OKA" was made
---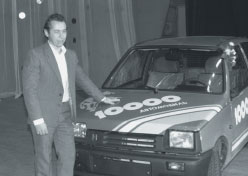 This is the 10,000th "OKA" mini-car that has been produced at "ZMA" plant
---
The production of the "OKA" mini-cars has been steadily increased.
Marketing department was organized at ZMA in 1994. It began to create and extend export markets.
Until 1995 SeAZ used the ready-made cars that were supplied by VAZ, and was engaged only in their re-equipment in version for invalids. But from the mid 1995 the factory has mastered full manufacture of the car, including welding, painting and assembly. Under SeAZ release of "Oka" new versions have been specially constructed, and SeAZ has finally said goodbye to the status of the manufacturer of invalid motorized carriages.
To survive in uneasy conditions of the Russian market, SeAZ in Serpukhov besides invalid versions has begun release of the usual "OKA".
Updated model with an index 11113 (engine displacement volume was increased to 750 cc). At the same time on the conveyor were also assembled models 11113-01 (for people without both legs(foots)) and 11113-02 (for people without one leg(foot)).

In 1996 SeAZ has produced 3,400 minicars "OKA".
18,919 cars were produced in 1997 by ZMA, and that was double the volume of 1996 production.
In 1997 SeAZ has produced 8,400 minicars "OKA".
75,000 of "OKA" mini-cars were produced by December 1998.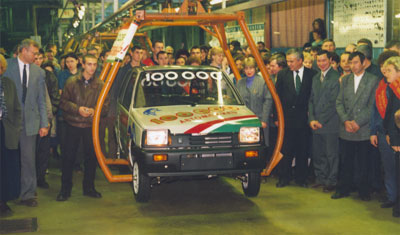 This is the 100,000th "OKA" mini-car that has been produced at "ZMA" plant
---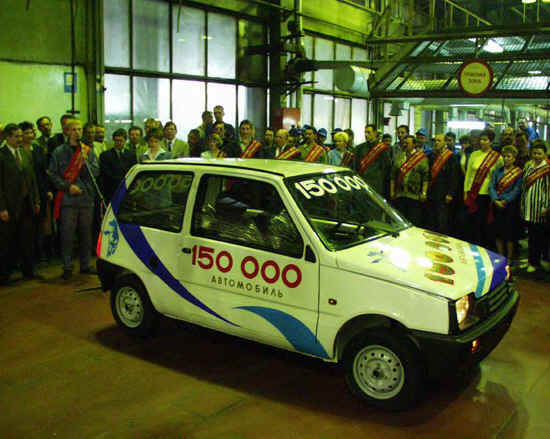 This is the 150,000th "OKA" mini-car that has been produced at "ZMA" plant
---
"OKA" car has good handling qualities, it is easy and safe for everyone to drive. "OKA" is very economical car.
"OKA" cars meet all modern requirements.
For many years there was continuing and stable demand for "OKA" cars in Russia.
Future plans at the ZMA factory were to increase car production and expand to new export markets.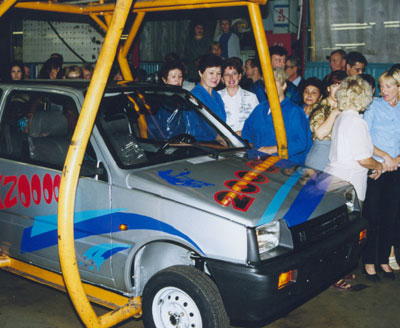 This is the 200,000th "OKA" mini-car that has been produced at "ZMA" plant
---
"OKA" mini-car still had good outlook for future demand in Russia and other countries in 2003 after 16 years of production.
"OKA" always was the least expensive car in Russia and that is why demand for these mini-cars continued.
Moscow and Tatarstan were the two top sales regions of "OKA".
OKA in USA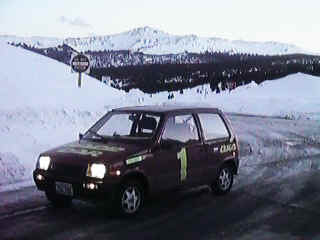 The "FIRST" OKA imported to USA in 2003
---
MIROX Corporation of Las Vegas, Nevada is the Manufacturer's U.S. Representative and has been actively introducing the "OKA" mini-cars to North America.
---


OKA display @ 2005 Los Angeles Auto Show
"OKA" mini-cars were introduced to American public at the 2004 Los Angeles Auto Show and were exhibited again at the 2005 Los Angeles Auto Show in January 2005.
---




OKA RACE sponsored by SynLube Incorporated of Las Vegas, has been raced in Nevada SCCA AutoX and RallyX events with great success and placed 1st in two racing categories in 2004 racing season.
(Click here for details)
---
Last years of production in Russia
In 2004 the ZMA factory produced 41,391 mini-cars in 82 different colors and 23 levels of trim.
Since the start of production at ZMA 296,084 "OKA" mini-cars were produced as of December 31, 2004
---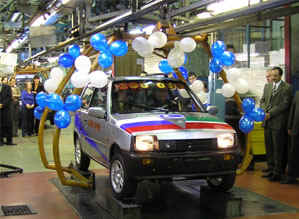 On February 11, 2005 the 300,000th "OKA" mini-car leaves the final assembly at ZMA.
But 2005 has brought bad news for "OKA" mini-cars. AUTOVAZ has reduced the production of the two-cylinder engine that was used in "OKA" mini-cars. And VAZ has then made the final decision on stopping the manufacture of this power unit.
As a result in 2005 the two factories (ZMA and SeAZ) could assemble only about 43,000 cars.
2006 has begun for admirers of "OKA" mini-cars even less pleasantly.
Since April 2006 the assembly in Naberezhnye Chelny by ZMA has been stopped and in Serpukhov the release of "OKA" was still continued by SeAZ, but the few cars produced at SeAZ obviously do not satisfy all current consumer demand for "OKA" mini-cars in Russia.
As a result the retail prices for "OKA" in the first 6 months of 2006 have increased by more than 20 % and still continued to grow further.
The prospect of future manufacture of cars " OKA" was connected with the installation of Chinese power unit. This three-cylinder 1.0 Liter engine coupled with 5 speed transaxle meet the just enacted in Russia environmental regulations that required all new vehicles sold in Russia to meet at the minimum the "EURO 2" emission standard.
Such "EURO 2" version was developed by SeAZ and has passed Russian certification and operational tests.
In September, 2006 the "OKA" mini-car production commenced at SeAZ with the Daihatsu licensed powertrain that was made in China by FAW.


"OKA" mini-cars at KAZ in Naberezhnye Chelny
Another small production still existed in Naberezhnye Chelny by KAZ, which utilized power units manufactured by MeMZ in Ukraine. These four-cylinder engines of 1.1 Liter and 1.3 Liter displacement were mated to 4 speed manual shift transaxle. KAZ also produced few vehicles for export to USA, as well as few "electromobiles" some of which were imported by MIROX Corporation to USA.
In 2007 SeAZ also custom produced few vehicles for MIROX Corporation that were exported to USA.
The constantly rising prices and the World-wide economic crisis, however was a serious blow to "OKA" mini-car production and due to sharply reduced demand only 1291 cars were produced by SeAZ in 2008 and finally the daily production was stopped in November 2008.
One contributing factor was also that in 2008 in Russia, came into effect the Euro-3 emissions standard requirement, a Chinese adaptation of the motor to meet these requirements raised the purchase price by another US$300.
In December 2008 in Arbitration Court of Moscow region SeAZ filed for bankruptcy.
OKA lives on
However OKA is not quite dead yet, it continues on as OKA NEV ZEV a low-speed vehicle (LSV) also known as Neighborhood Electric Vehicle (NEV) and is being produced to special order to discriminating owners in USA by MIROX Corporation.
A new updated OKA NEV ZEV model with more powerful AC motor was introduced in late 2011 as 2012 Model.
MIROX Corporation continues the production of OKA for 2018 Model year.
But only very few lucky Americans will be able to own a copy, indeed "OKA" mini-car today is more rare than MAYBACH !!!