FIAT - BERTONE X1/9
---

Home | History |  OKA News Page |  OKA Mini Cars |  OKA Parts | Sitemap
Scale Models: Scale − 1:18 | O Scale − 1:43 | HO Scale − 1:87
Automobiles
FIAT - BERTONE X1/9
FIAT - BERTONE X1/9 is available as O Scale (1:43) model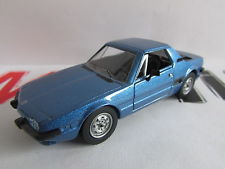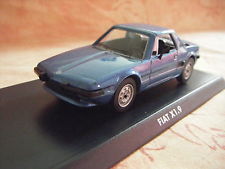 Item #
MAKE
Model
Model Years
Color
Price*
RX19

FIAT

X1/9

1972-1978

Blue

$

32.00
Available from: MIROX Corporation
Availability: In stock! Available for immediate delivery - Order now!
*) Price includes FREE Shipping and Handling in USA.
---
Description
X1/9 is a two seater sports car with removable "targa top" designed in Italy in 1970 by BERTONE featuring a 1275cc SOHC mid mounted 4-cylinder engine with 4 speed transaxle.
The car was developed by BERTONE, but initially Carrozzeria Bertone has only produced the body shell and FIAT completed the vehicles in another factory.
The car body was produced in Grugliasco on the outskirts of Turin.

The name comes from the design designation and it is the only Bertone designed vehicle that was not renamed for production.

This low cost, lightweight and simple car, which had been developed as the "affordable sports car" and served its purpose for over seventeen years.
Series production of the X1/9 was stopped in Italy in 1989 when BERTONE released the last batch of X1/9's with FIAT/Lancia 1500cc engines, BOSCH L fuel injection and 5-speed transaxle.

The X1/9 in America
The X1/9 cars were sold in USA by FIAT from 1972 to 1980. In 1982 FIAT withdrew from USA and the sales were taken over by IAI and latter by independent distributors. Last vehicles were imported to USA in 1989.